Today's "Young Guns" segment features an exciting competitor who would rather lose a match going for submission after submission rather than to win a match by stalling.
Sean Roberts achieved the rank of faixa marrom in five years from Ralph Gracie. As a consummate competitor, Sean is always looking to challenge himself. For example, only two days after receiving his brown belt, Sean entered the 2010 San Francisco Open and took home a gold medal by submitting all of his opponents.
Watch for this high energy competitor in 2012. Enjoy the interview!
********************************
Submission Control: How did you start Jiu Jitsu?
Sean Roberts: At age 15 I decided to start martial arts again (I did karate for a few years when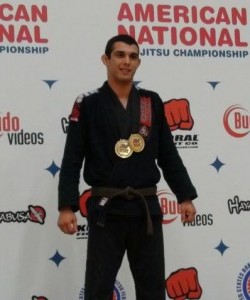 I was younger). My dad referred me to do Jiu-jitsu. I started at team Ralph Gracie in Orange County. Back then it was a very small school. At the most there would be about 16 guys, but usually there would be like 4-8 students on the mat at once.
SubCon: Who are your main influences?
SR: My main influences are Eduardo Fraga, who was originally my first instructor, and Brad Jackson, who I took privates from for many years. Also Ralph Gracie for helping me continue my training, making me train at his most elite academy. My mom and dad for being so supportive of my goals. They even run their own Brazilian Jiu-jitsu academy back in my hometown Chino Hills. And my girlfriend, who also does Brazilian Jiu-jitsu, for being supportive as well. Also OnTheMat.com for hooking me up with all the gear.
SubCon:You say you took many privates with Brad Jackson for years, how has the one-on-one attention helped you in past competitions and the in class? Do you think it is beneficial as a competitor to have a coach that you are very close with corner you in your matches rather than head of your academy who may not necessarily know your game?
SR: Brad Jackson may not be very well known because he does not compete often but has a lot of knowledge and is beyond excellent at teaching jiu-jitsu. From the beginning, he has shown alot of interest in me. I took advantage of the opportunity and began taking private lessons in his garage once a week every week and immediately started seeing my progress skyrocket. Although he would not always be there come tournament time, he would always watch my matches afterwards and correct my mistakes and change my strategy.
SubCon: How would you describe your style?
SR: I would describe my style as submission oriented. Also, I have a very unique game. My favorite position is top side control and anything involving the guard. I've been working very hard on my passing these past couple of years and now I feel like my passing skills are right where they need to be. But, I continue to work on all aspects of my game to make sure I am well-rounded.
Subcon: You training everyday and sometimes twice a day, what is your training regiment like?
SR: I haven't been training full speed for the past month because there haven't been any important tournaments coming up. Now with the Pan Ams and Worlds right around the corner, I'm going to be taking my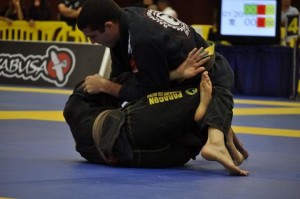 training a lot more seriously. For the first time I'm going to start strength and conditioning while training two times a day so I will be properly conditioned for the Pan Ams and Worlds.
Subcon: How do you stay motivated?
SR: I've had motivation problems in the past couple of years. But when I had my knee surgery early this year, I had to take a good two months off, and realized how much I loved Jiu-jitsu. After my surgery, I started training at Ralph Gracie San Francisco and ever since, I've came home with a gold medal from every tournament I've competed in. It's definitely increased my confidence and motivation to keep improving my Jiu-jitsu.
Subcon:What has been the proudest moment in your BJJ career?
SR: I got triple gold at Grapplers Quest recently, I also got double gold at the 2011 American Nationals, and becoming the 2007 Worlds No-Gi Champion are definitely my most proudest moments. But I know these moments are just small compared to what I will achieve in the future.
Subcon:What has been your toughest challenge thus far?
SR: To consistently train hard everyday twice a day is very challenging at times especially when your body is tired and you feel like giving up. Giving up is not an option for me. I've put it into my mind that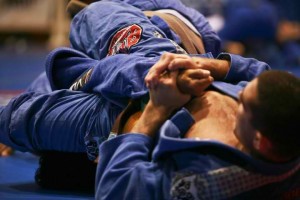 I needed to train harder if I want to achieve my goals.
Subcon: What can your fans expect from you in the future?
SR: For finishing up my time as a brown belt training as hard as I possibly could to do well in the Pan Ams and World Championships coming up. My next goal is to get my black belt and continue excelling my Jiu-jitsu to the next level. The thought of these goals are consistently in my head and have made me obsessed about being a world class Jiu-jitsu competitor and also making me train hard.
Subcon: Any final thoughts?
SR: Just a big thank you to all my friends, family, and most importantly my instructors and training partners. And thank you to OnTheMat.com for being the best sponsor I've ever had.