Today's "Pioneers of the Sport" segment features the founder of American Top Team (ATT), Ricardo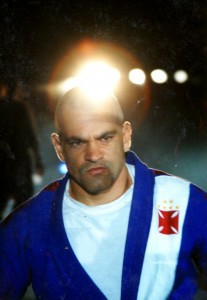 Libório. He is known by the general MMA audience as the mastermind of one of the most successful modern teams. His roots in the martial arts leads back to Judo, Tae Kwon Do and the Gracie family.
Libório was the first super heavyweight CBJJO/IBJJF Mundial Champion, yet he only weighted 175lbs (78Kg). To demonstrate his heart and warrior sprint, Ricardo would always fought in the heavyweight, super heavyweight and open weight divisions!
Mastre Carlson Gracie once said that Libório was his best student. Given the stable that Carlson had back in the day, this was a HUGE compliment. However not all that glitters is gold… in 2000 Ricardo and Mastre Carlson split ways. Below is the full story as per http://www.bjjheroes.com of what transpired and how ATT was formed.
"Ricardo Liborio had a special relationship with his coach, Carlson Gracie, often being referred by his master as his best student. Even so, around the year 2000 it was more and more evident that the Carlson Gracie Team was not happy with it's leader. Gran Master Carlson often spend months on end in his Chicago school, neglecting the Rio de Janeiro classes (that were taught mainly by his senior students, people like Liborio, Sergio "Bolao" and others). Around this time the students demanded Carlson to sign a contract that allowed him to receive 30% of his fighters purses only on the condition that he would return to Brazil a month before the competitions to teach his students. The contract got signed, but it wasn't followed by the grand master, which caused great distress amongst the team. Around the same time Ricardo Liborio left the country to go compete in Abu Dhabi's ADCC (The world's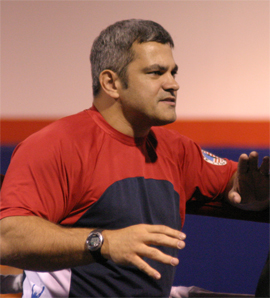 greatest Submission Wrestling tournament). Liborio went with his team mate Ricardo Arona where he got a Silver Medal and Arona won Gold. When Liborio returned he did not have a chance to go to the academy as he flew straight away to Japan to corner another team mate Murilo Bustamante for an MMA fight. It was there that both Liborio and Bustamante found out they had been expelled from the Carlson Gracie school together with several other students.
The expulsion came as a shock to Liborio, who believed everything could have been solved with a quiet get together. He then flew to Chicago to speak to his master and settle things, but Carlson was set in his decision and there was no going back. Ricardo Liborio then returned to Rio and helped form a new team with Carlson Gracie's dissidents. The team was called Brazilian Top Team (BTT). The Jiu Jitsu coaching was led by Ricardo Liborio and "Bebeu" Duarte while Murilo Bustamante and Zé Mario Sperry were the face of the academy and also two of their strongest MMA competitors.
Ricardo Liborio first started to drift away from BTT in 2001, when he was in Japan preparing "Minotauro" for his fight against Mark Coleman. A Japanese fight promoter invited Ricardo to stay in Japan coaching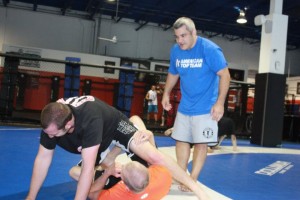 Japanese fighters for 6 months. The proposal was tempting and Liborio promised to think about it while he visited the United States, to help his friend Murilo Bustamante fight Chuck Liddell. There he met Dan Lambert an American impresario. When Dan heard about the Japanese proposal, he made a counter proposal to Liborio to stay also a semester in Florida. Ricardo agreed, but after only a few months he decided he loved his new life in America and he wanted to stay. Ricardo Liborio then bought the name ATT and broke the contractual ties that led him to BTT, while keeping with the Brazilian team a very strong and healthy relationship. Ricardo Liborio, Dan Lambert, Marcelo and Conan Silveira then joined forces and formed the American Top Team, a team that is going stronger with every year in both the MMA and the Grappling scene in the US."
… and the rest is history.
Enjoy this historic match from the first world championship.
Ricardo Libório x Remco Pardoel (1996) Bow & Arrow Choke from Top Half Guard Crucifix, Arm Lock