Introduction
A few months ago, someone over at MartialArtsSupllies.com (http://www.martialartssupplies.com/) was gracious enough to send us a product to review on Submission Control. We were excited and jumped at the opportunity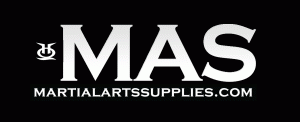 because we knew that MartialArtsSupllies.com offered some high-end brands such as Isami and Mizuno, economical brands such as Fuji and Tatami and finally some staple brands such as Vulkan, Keiko Raca and Manto.
About a week after we agreed to do the review, we received a package in the mail with the MAS logo. Upon opening it, our jaws dropped to the floor! Inside the package, was an extra large "Be Water" rashguard by Scramble (http://www.martialartssupplies.com/scramble-water-rg.html).
Upon initial inspection, we all agreed that aesthetically, this was a sweet rashgaurd. Scramble took the Bruce Lee's "be like water" concept and married it with the Japanese masterpiece called "The Great Wave off Kanagawa" by Katsushika Hokusai. Running down the back, in black print, Scramble utilized Kanji that translates roughly to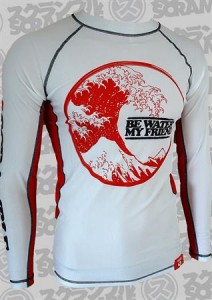 "Technique". Finally, running down the right sleeve we have the Scramble logo in black and the Kanji again in red. All the art work is dye sublimated so the peel off factor was non-existent. The rashguard is made up of seven panels, five white and two red; therefore it does not comport with IBJJF regulations (that's unless you are Helio).
Comfort was a major concern given the panel construction.  The stitching was thick and somewhat rigid so we were very concerned with the comfort level.
We noticed that the material was very light. The feel was similar to the standard Under Armour Heatgear compression shirts. (However, to point out, the weave construction on the Under Armour is a lot tighter than Scramble's weave.)
The 64 Day Test
Not everyone is built the same way, so the concept is to test the product over 64 consecutive days of training from two different points of views.
So I took first crack at it; I'm 6'2", 185 lbs (on a good day), think Royce Gracie build but with some fat HAHAHA! I normally wear an A3 double weave Atama or an A3S Shoyoroll.
The first time I put the rashguard on, my main suspicion was correct, the thick stitching did dig in a little. However, I said to myself "self… quit being a baby, go train!" To my surprise, after five minutes of rolling, I did not notice the initial digging.
The neck was a little tight because of the high collar. Besides that, this rash guard fits me perfectly! The sleeves ended an inch below where the ulna and radial bones meets the wrist (I wear a 36" sleeve dress shirt). The armpits were a little tight, but not so tight that it was uncomfortable. Finally, the rashguard ended about 6 inches beneath my bellybutton.
I'm predominantly a gi guy, so I wore the rashguard under my light Shoyoroll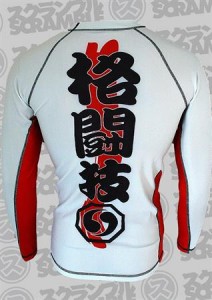 and it was great. Given the lighter materials, I did not feel overwhelmed with the heat or got a sense of claustrophobia. I felt my skin was able to "breath". I stayed with the combination for 16 consecutive days of training and everything was good.
For the next 16 days, I wore my double weave Atama. In these instances I felt overheated and claustrophobic. I don't think this was attributed to the rashguard. For those who have seen, touch, wore, or train in an Atama double, you know the weight of that gi.
For my last 16 days (before I handed it over to someone else) I wore the rashguard underneath my Navy Limited Series Keiko Raca. While that gi is heavy, it is not as heavy as the double weave Atama. I found that this combination was my threshold. I was able to wear the gi and rashguard without feeling too heated and I was able to build a nice sweat in very little time.
For the final 16 days, I handed the rashguard off to someone else for a no-gi trial.  My friend is built a fire hydrant (HAHAHA); he is 5'5" and 190lbs of not so solid muscle (thankfully, he has a good sense of humor).
He had the same issues as I did, the high collar was tight and the seams bothered him. He was not used to wearing long sleeve rashguards; he favors the sleeveless Under Armour shirts.  So given the long sleeve construction, he felt claustrophobic. Overall, he liked the designs and the rashguard wicks the sweat off his body well, but it was just too slim fitting for his liking.
Verdict:
This rashguard is made of 85% polyester and 15% elastin; after 64 washes it did not did not shrink. It got a little stretched out because of my stocky friend, but it was not so bad. The colors did not fade or bleed. Also, because the colors are dye sublimated, the designs are exactly as we first got it!
If you are a long skinny guy like me, this is a great rashguard. If you are stocky, you may want to look into getting a size up from what you usually buy.