In today's "Young Guns" segment, we feature a collegiate wrestler turned submission specialist, William Abreu. This guy has been tearing up the no-gi scene on a regional and international level since 2007. Some of his more noteworthy titles include:
2011
IBJJF No-Gi World Championship – 1st
IBJJF No-Gi Pan Am – 1st
IBJJF Miami Int'l Open – Weight – 1st – Absolute – 3rd
2010
Abu Dhabi Pro U.S Trials – 1st
His gi game is not too shabby either. Enjoy the interview!
******
How did you start Jiu Jitsu?
I stopped wrestling due to injuries, but I still wanted to train somehow. A few of my friends introduced me to Jiu-Jitsu and I've never looked back since. It is Great sport with great people…
How has your "uncle" Roberto Cyborg Abreu influenced you?
LOL…Well we are not actually related by blood, but by the grace of God we're a family nonetheless.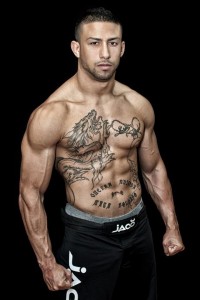 In the sport itself I've learned a great deal from him, but as a person I'm impressed every day from how big his heart is. Thanks to him I learned that Jiu-Jitsu is more than a sport, it's a life style.
Who else do you look up to?
Wilfredo Morua, he's my younger brother. The idea of having to be an example to him was by far the biggest reason for me to never give up. Now that he has gotten old enough to understand life, I can say he is my greatest friend. Noticing more and more how he makes right decisions and learns from the wrong ones truly makes me feel much happier. Not only knowing that I'm on the verge of a great life, but that I made a difference in his life, which in turn guided me to where I am today.
You been known to have a dominating takedown game, what do you think of current state of BJJ in regards to the double guard pull?
Jiu-Jitsu is becoming a sport where most people just care about rankings and medals so lots of "Lay-N-Pray" or "Double Guard Pulling" to hold on to whatever lead they may have. I think the fans deserve more than that, and for that to change some rules need to change.
How would you change the current rules to promote a more dynamic well rounded Jiu Jitsu match?
There should be no sitting, guard pulling can only be done for defensive purposes while there's contact, the same take down shouldn't be allowed continuously, they must be successful with another take down before repeating. There should also be stronger stalling rules rewarding the aggressor.
Do you prefer the Gi/judo style throws or the No-Gi Greco takedowns?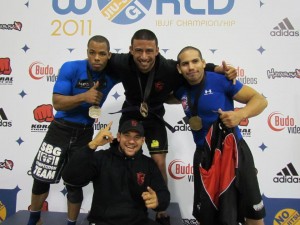 By nature and my wrestling experience No-Gi is my preference. Due to the tradition behind the Gi and all the technique needed to master it, it truly grabs my attention much more.
What is your training regiment like?
I work a full-time job and sometimes 2, so training time is slim. I do my best to get in at least 5 days a week (strength training 3 days, Jiu-jitsu 5 days, conditioning 2 days). I'm blessed that everyone at my gym (Fight Sports) from white belts to black push me hard every time so I get great training no matter how short my time is.
Who do you think is your biggest threat in your division? Why?
I don't follow any stats because I know all too well how you can be a champ one day and not be remembered the next. So to me worrying about who's in my division is just eating up energy I can use for training.
How would you describe your style, beyond the takedown game?
I love a good fight, I train for all possibilities. In training I do great in all positions but rarely do I get to show case my other skills in competition. I rather have an aggressive fight on the ground than on my feet, I'm very confident on my bottom game.
What has been your proudest moment in BJJ thus far?
In March I went to Brazil to teach a seminar. Wow the people there are so great. Everyone that knows me knows how I love to teach more than compete.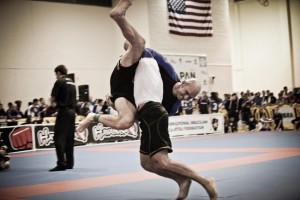 The fact that every day I was there teaching the questions never stopped, it felt great. That feeling of knowing I was giving back to the sport I love is an unforgettable moment.
How do you handle defeat?
I'm no stranger to losing, so it's not an issue to me. Now if I feel I lost due to something I could've prevented (strength or conditioning) then that is when I truly can't get over it. I'm a true believer that matches should come down to skill and experience.  
What are your plans for the near future?
Whatever it takes for that Black Belt, don't be surprised if I give MMA a try. Everything I do now is for the possibility to have an academy at some point.
Any final thoughts?
Thank you to Fight Sports, Ferrino S&C, Universe Miami, Warrior Rehab and Igo Borges. Anyone out there interested in sponsoring or in a seminar contact me.
FB: www.facebook.com/abreuwilliam1
Twitter: @not_a_problem
Email: info@williamabreu.com