Today's Young Guns segment features a sensational light weight purple competitor, Michael Liera Jr. In 2011 he won the worlds as a blue and now as a relatively new purple belt, this young bjjer took gold at this year's Pans.
Enjoy the interview and watch out for this guy at this year's Mundials. Ossss!
*****
How did you start Jiu Jitsu?
I started Jiu Jitsu when one of my dad's friends invited us to a class. I had no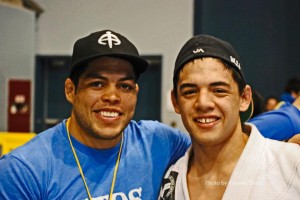 idea what Jiu Jitsu was, nor did I have any interest in it at the time, but me and my dad tried it out and we have stuck with it ever since then.
Who are your main influences?
My main influences in Jiu Jitsu are my instructors Andre Galvao, Rafael and Guillherme Mendes. They have showed me most of the techniques I use, and I try to replicate their Jiu Jitsu as much as I can.
Like many of our Young Guns, you went to the world pro tournament at Abu Dhabi. What was your experience like there on and off the mat?
The World Pro in Abu Dhabi was an expericence of a life time! I was very fortunate to have gone last year, I met a lot of good people and had a good time in the tournament. Abu Dhabi was obviously very different from what I'm used to here in California, but it was cool to see how mainstream Jiu Jitsu was there! There would be posters and advertisements for the World Pro tournament everywhere like commercials, buses and bill boards! In the tournament I placed 2nd in my weight having all submissions up until the final where I lost by one advantage. This year I competed in the New York Trials and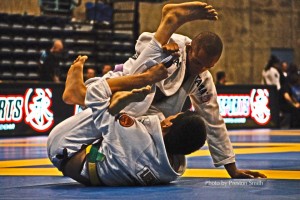 won my weight division but lost in the absolute finals by one point. I training hard to go back to Abu Dhabi next year though!
What is you training regiment like at Atos?
At Atos Jiu Jitsu we train 10-11.30am drills, 12pm competition training, 4pm Workout and/or Drill session, and 6pm night training. At Atos we get the best of our training because we try to do everything as a team, so we can push each other in everything we do.
Who do you think is your biggest threat in your division? Why?
There are a lot of tough guys in my division this year, it is hard to choose just one!
What has been your proudest moment in BJJ thus far?
My proudest moment in Jiu Jitsu so far was definitely winning the Pan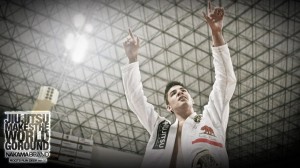 Americans this year at purple belt. I was very happy that all the hard work put in for that specific tournament had paid off!
How do you handle defeat?
In any tournament it is really hard for anyone to accept losing, I just always try to keep my head up and learn as much as possible from each lost.
What can we expect from you in the future?
A black belt world title! That is my ultimate goal!
Any final thoughts?
I'd like to thank first and foremost my family for supporting me and my pursuit of my dreams! Shoyoroll and JiuJitsuFactory.com for all of the help they have given me! My team Atos for all of the good trainings! and thank you submissioncontrol.com! Oss.