Today, we feature a vintage battle between one of the most innovative guard players in the 90's and one of the best low passers during the same time period, Roberto "Roleta" Magalhaes (Gracie Barra) vs. Wallid Ismail (Carlson Gracie).
This epic battle between these two giants of the sport took place at the first Mundials in 1997.
For those who are not too familiar with Roleta, here is is story: (courtesy of http://www.roletabjj.com)
Enjoy the match!
*****
Born in Aracaju, Brazil, Roberto Roleta Magalhaes started training in the art of karate at the age of twelve, and in the art of Brazilian Jiu Jitsu at the age of 17.Although his three brothers were already practising Brazilian Jiu Jitsu, it was merely by coincidence that one day Roleta, walking past a Brazilian Jiu Jitsu academy, noticed an instructor teaching a move that reminded Roleta of a fight he had been in earlier. Roleta, realised, that if he had known the move, he could have won his fight much easier then he did. After this encounter, Roleta joined Jo Moreira's BJJ academy and he stayed there until he gained his purple belt, winning a few competitions within that time.
For a period of three years, Roleta carried on studying both Karate and Jiu Jitsu together and then realised that to excel in Brazilian Jiu Jitsu he needed to dedicate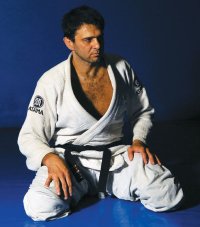 himself to it whole-heartedly. Hence, after achieving his purple belt, Roleta moved to the Gracie Barra academy in Barra, Rio and in order to keep his focus and motivation, he set himself the goal of becoming 'the Brazilian Jiu Jitsu National champion'. This was no easy fete at the time when Brazilian jiu jitsu had no formal tournaments,to decide who was the best. The brazilian national championship was the only tournament, that competitors could enter.
Roleta evaluated his Brazilian Jiu Jitsu while he was training in gracie barra and quickly recognised that since everyone knew the same techniques, if he had done what everyone else did at the time, winning was down to the individuals' size and strength. At 78 Kg his opponents were heavier and stronger than him; he realised that a new strategy and new techniques were needed to defeat his opponents.
This set Roleta on a mission to break from the norm and create his unique style of Brazilian Jiu Jitsu . As most of the competitors of the time, played top position, Roleta worked on his guard and his sweeps. He created sweeps, grips and guard positions that no one had seen before '…..I would just think of moves, twenty four seven, I would wake up at night with ideas in my head, grab a piece of paper and write them down, so not to forget them' (Roleta).
He would go to Gracie Barra to train and everyone would say that, what he was doing, was not Brazilian Jiu Jitsu. They considered his Brazilian Jiu Jitsu as 'out of the ordinary' A weird style of Jiu Jitsu; not the 'normal Brazilian Jiu Jitsu ' that everybody knew. A style that only suited him. This only spurred Roleta on towards achieving his goal.
In his quest for new techniques, Roleta invented the 'Inverted guard', which confused his opponents enough, for Roleta to sweep them and get an advantage. '…..people would just use their strength and eventually open my closed guard, only to be caught in my inverted guard' (Roleta).There were times in the gracie barra academy when most of the students would avoid training with him because his guard and sweeps were indecipherible.
When the first Brazilian Jiu Jitsu World championship was created, Roleta was given his black belt, specifically by Carlos Gracie Jr. (Gracie Barra founder), so he could fight Wallid Ismail, who was, Carlson Gracie top student. There was an intense rivalry between Gracie Barra team and Carlson gracie team at the time.Wallid Ismail, who had been unbeaten for several years, came to the championships with supreme confidence. Wallid, then, the most famous fighter not in the Gracie family, was confident he would win …. he promised to cut off his hand if he lost – but he had never seen anything like Roleta's bizarre leverage. (GM)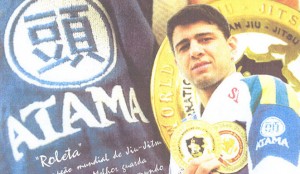 Roleta (Gracie Barra) and Wallid fought(Carlson Gracie) for nine minutes, which were mostly spent in deadlock, until Roleta swept him, got his back and consequently won the title for Gracie Barra. More impressively Roleta accomplished this feat with a technique called the 'helicopter sweep', a trap in which the attacker sees himself in a position of apparent total control, only to fall victim to the pendulum, turning the situation around completely.
Hence shocking the world of Brazilian Jiu Jitsu. Roleta's incomprehensible Jiu Jitsu style owned him the title of 'Brazilian Jiu Jitsu's showman'. Using his own unique techniques, Roleta (gracie barra) became Brazilian Jiu Jitsu World champion, even before he had the chance to compete for the Brazilian national championship. This outstanding achievement marked the very beginning of his successful competitive career.
In fact, whilst studying for his masters in industrial engineering, he went on to became four time Brazilian jiu jitsu World champion as a black belt, four time Brazilian National champion, four times Pan American champion, as well as numerous other titles, he achieved.He flew the flag for Gracie Barra with pride.
'…..Its hard to mention the guards evolution, without citing Roberto 'roleta'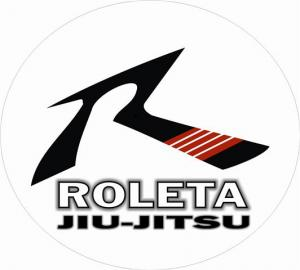 Magalhaes (Gracie Barra),as the innovator, in his quest to revolutionise the guard position and sweeps there in, he defeated Brazilian jiu jitsu greats, such as Wallid ismail 1996, Ze Mario Sperry 1998, Amaury Bitetti 1999 and Fernando Margarida 2000. As well as other greats such as, Saulo Ribeiro, Murilio Bustamante, Minotauro and Roberto Traven'. (GM)
Roleta's legacy can be seen in the majority of sweeps used by competitors today, '….I see many sweeps and variations that I have created in today's competitions, I am proud of being part of brazilian jiu jitsu history' (Roleta).
Roleta is currently retired from competition and spends most of his time at his academy in Recreio, Rio De Janeiro, Brazil teaching his current students to become future world champions, with the same effort, focus, motivation and passion he demonstrated in the many years whilst competing in the art that is known as (Gracie Barra) Brazilian jiu jitsu.