Today's "Pioneers of the Sport" features the very first 2x Absolute Division BB champion, Amaury Bitetti.
Bittetti, a BB under the late great Carlson Gracie exemplifies Carlson's theory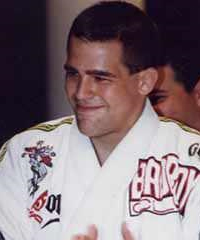 on Jiu Jitsu. According to Carlson, for a person to excel in the art, a fighter should possess three attributes: 1) technique, 2) strength and 3) speed. Without these three attributes working in harmony, the athlete will not be able to perform to his/her fullest potential. With this philosophy, Carlson was able produce BJJ and MMA monsters such as Ricardo De La Riva, Mario Sperry, Ricardo Liborio, Wallid Ismail, Vitor Belfort, Miguel Torres, Amaury Bitetti and many more.
Below is a Bio on Amaury Bitetti (courtesy of BJJHeroes.com)
******
Amaury Bitetti was the son of Carlson Gracie's childhood best friend (who was also named Amaury). His father had trained under Carlson and was one of the partners of the famous Carlson Gracie Academy in Figueiredo Magalhães, Copacabana were many big names of the sport trained, people like De La Riva, Murilo Bustamante, Sperry amongst many others.
As expected Amaury (Junior) started training very early, when he was just 5 years old. With such an early head start, when the tournaments came he started dominating the junior scene a dominance that would prevail through most of his competitive Jiu Jitsu career. There is in fact footage on youtube of a 10 year old Bitetti getting the win at a local tournament together with the fastest submission and speaking to a local news reporter about how nervous he gets when competing.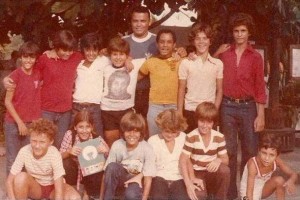 When Bitetti reached 17 years old, his master Carlson enlisted him in a tournament as a junior fighter, but also as an adult in the black belt division. His father didn't like the idea, but allowed young Bitetti to compete. Amaury ended winning four (yes, 4!) gold medals in the tournament, winning both his weight and the open weight (absolute) in the junior and adult divisions.
When Carlson Gracie moved to the USA to open an academy there and to manage the career of Vitor Belfort, several of his fighters were left without a master. Some formed the famous Brazilian Top Team (BTT), but Amaury chose a different path, joining Osvaldo Alves who was a legend of Jiu Jitsu in Brazil and a friend of Carlson.
Amaury also tried his luck in MMA with a short career from 1995 to 2000 in which he retained a record of 5 victories and 2 losses. During this short spell at "vale-tudo" (as it was called then) he fought mainly at light heavyweight and heavyweight even though according to today's cutting weight standards he would more likely be fighting at middleweight. Soon Bitetti lost interest in the fighting game and quit MMA.
Though his fighting career might have been over, his days in MMA were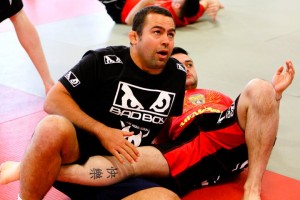 not finished. Having been a friend of the Nogueira Brothers (UFC's Rodrigo "Minotauro" and Rogerio "Minotouro") since the late 1980's, he had been invited to help train the brothers on occasion. When Rodrigo "Minotauro" opened his training camp, he invited Bitetti to be his grappling coach, a challenge immediately accepted by the Jiu Jitsu ace.
Amaury Bitetti is also the founder of one of Brazil's foremost Mixed Martial Arts organization, the "Bitetti Combate". An organization that has helped bring to light fighters like Alexandre Pimentel, Fabio Maldonado or Glover Teixeira while revamping the careers of others like Pedro Rizzo and Ricardo Arona.


Amaury Bitetti vs. Fabio Gurgel 1996



Amaury Bitetti vs. Fabio Gurgel 1997



Amaury Bitetti a 10 year old Champion



Taking the back