Today's "Young Guns" segment features a young lad from the coastal city of Swansea, Wales. Ash Williams is a purple belt under BJJ Superstar Braulio Estima and Chris Rees. At the young age of 19, this future star has ripped through his peers in the UK grappling scene and massing fifteen medals (10 gold, 3 silver and 2 bronze) along the way!
Watch for this featherweight to burn up the UK scene in the coming year! Enjoy the interview!
If you are in Wales, stop by and train with the guys at Gracie Barra Swansea
Submission Control: How did you start Brazilian Jiu Jitsu?
Ash Williams: I have done traditional jiu-jitsu since I was young but always have been interested in the competition aspect of sport. My coach Kelly Chambers at the time mentioned of a Brazilian jiu-jitsu club she had heard of not far from my home where I would get a chance to compete frequently so I thought why not. At the time I was training in many things like rugby gymnastics and of course traditional jiu-jitsu, It didn't take long before I gave all of these up and just focused on BJJ under Chris Rees which I found very addictive because the nature of the sport.
SubCon: How has your background in traditional Jiu Jitsu helped your BJJ game? Is there any cross over potential in both martial arts?
AW: I found that traditional jiu-jitsu had transferable skills which would
immediately benefit my basic game. Traditional gave me a good basic understanding of sweeps and a range of submissions and their variations, what I found lacked the most when starting BJJ was my transitional skills and ability to link techniques together. I am glad I trained traditional and achieved the level of black belt but found it hasn't evolved in all my years of training where in my short time in BJJ found that the game is always developing which means there is always more to learn and more possibilities to vary your game.
SubCon: What was your first day of BJJ like?
AW: The first day I stepped on the mats was very exciting, my twin brother and I went along to the Chris Rees Academy in Swansea for our first ever BJJ session. I was 14 at the time but taking part in an adult class, I remember the warm up being very tough and the techniques being interesting. There was plenty of rolling and drilling but as I was young and new to the sport I stayed paired up with my brother. I had never ached after a training session like I did the following day!
SubCon: In your opinion, where do you rank BJJ in the UK vs elsewhere in Europe?
AW: I haven't yet had the experience of going outside of the UK to train but am very excited for when I do. Having said this I do believe the UK standard is very high and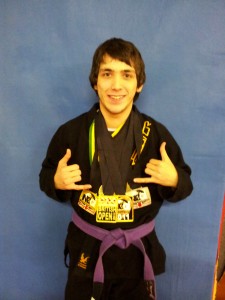 don't rate any other country blue belt more than I would rate a UK blue belt, I say this because the UK is now home to some of the best grappling talent in the world if not the best Braulio and Victor Estima, Roger Gracie . . . and there are more black belts popping up every month.
SubCon: Who are your main influences?
AW: My main influence has to be my coach Chris Rees who I train with as often as possible. Since being under his tuition my grappling has and is improving every session. I look up to him as a grappler and as the first Welsh black belt and hope to train under him for as long as possible. Obviously I look to world class grapplers like the Mendes brothers and Victor Estima as I'm a huge fan of their grappling style.
SubCon: How would you describe your style?
AW: I would definitely say I am a bottom player and love playing open guard and all of the variations. I've found that I'm fairly flexible which helps with inverting and general movement off of my back. I am not the strongest player physical in the under 70kg division which makes it difficult to play a strength based game, instead I try using a lot of movement and keeping things fairly high pace in competitions.
SubCon: What has been your proudest moment in BJJ thus far?
AW: I've had a good competition year in 2011 winning both the gi and no gi British opens, but my proudest moment has to be the day I received my purple belt from Braulio Estima back in October of 2010 as it was so unexpected.
SubCon: How do you handle defeat?
AW: If I'm honest I don't handle defeat brilliantly but try being as gracious as possible. Defeat makes me train harder though and I make sure that I don't get caught in the same thing again whether it was a sweep or a sub I drill with Chris until I am happy with what went wrong and what options I have to deal with it.
SubCon: What can we expect from you in the future?
AW: 2012 is going to be a busy year with many competitions, I'm aiming to dominate the under 70kg UK scene and hopefully win a few absolute medals also. As I'm in university I struggle to make some of the bigger comps because of exam time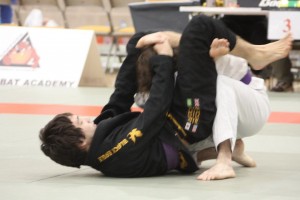 tables. I am very excited for the UK Abu Dhabi pro trials in March which should be a high level comp to test my skills. I really want to up my game this year and keep improving in every area both on the competition mats and back at the Academy. I am sponsored by Black eagle and they have been great, supplying me with quality training gear so I am looking forward to trying out any new kit they have on offer too!