Today's "Before They Were Stars" segment features the undefeated "Rowdy" Ronda Rousey!
As many of you may know, Ronda's accomplished a lot in her short time as a professional MMA fighter (including securing a title shot this March against Miesha Tate);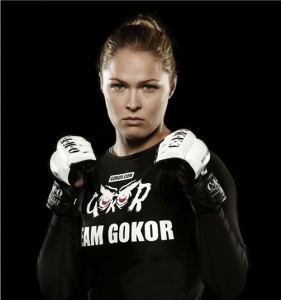 however many of you may not know that she was breed for combat sports.
Ronda's mother Dr. AnnMaria DeMars, was the first-ever American to win the World Judo Championships in 1984. Additionally, Ronda at one time trained under the watchful eye of US Olympian Jimmy Pedro and is currently training under legendary grapplers Gokor Chivichyan and Gene Lebell.
At just 17, Rousey qualified for the 2004 Olympic Games in Athens, becoming the youngest judo player in the entire Games. In the same year, Rousey won a gold medal at the 2004 World Junior Judo Championships in Budapest, Hungary.
In April 2006, she became the first U.S. female athlete in nearly 10 years to win an A-Level tournament as she went 5-0 to claim gold at the Birmingham World Cup in Great Britain. Later that year, the 19-year-old won the bronze medal at the Junior World Championships, becoming the first U.S. athlete ever to win two Junior World medals.
In February 2007, Rousey moved up to 70kg where she is currently ranked as one of the top three women in the world. She won the silver medal at the 2007 World Judo Championships in the middleweight division and the bronze medal at the 2007 Pan Am Games.
In August 2008, Rousey competed at the 2008 Olympic Games in Beijing, China. She lost her quarterfinal to the Dutch ex-world champion Edith Bosch but qualified for a Bronze medal match through the repechage bracket (first-round losers are given another chance to qualify for the semifinals). Rousey defeated Annett Boehm by Yuko to win a bronze medal (note: Judo offers two bronze medals per weight class). With the victory, Rousey became the first American to win an Olympic medal in women's judo since its inception as an Olympic sport in 1992.
The below matches are some of her submission grappling bouts from before she became big MMA star.
We also included her first professional MMA fight against Ediane Gomes.
*** Fun piece of trivia, Ronda comes for a quarky/techy family. Traditionally, men give women engagement rings; well Ronda's father gave her mother an engagement Mac! HAHAHA!
Valentine's Massacre Tournament

Ronda's First Professional MMA fight

Armbar from the guard