Today's "Young Guns" segment features one of my old friends and the first member of Renzo Gracie's kid's program… Gianni Grippo! I was a white belt when Gianni first stepped foot into Renzo's academy in New York City. As the sole member of the Renzo Gracie kid's program, at nine years old, he competed in tournaments up and down the east coast and eventually around the world.
Now, as an adult, Gianni is always looking to challenge himself. Along the way, he has won countless titles including three Mundial golds! You can be sure that he will not stop at only three Mundial golds.
It was a pleasure watching little Gianni's BJJ career grow to what it is today.
Enjoy the interview!
Submission Control: You and I go way back, I remember your first day at Renzo's famed meth clinic.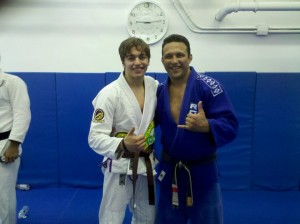 How did you first get interested in Jiu Jitsu?
Gianni Grippo: Man, those meth clinic days were crazy huh? Haha fun times though. I first became involved in Jiu-Jitsu when I was 10-years-old, where at the time I was serious about boxing, and I had been in a few [kids] amateur boxing matches. But when someone at the gym told my dad about Renzo Gracie's Academy in NYC, he wouldn't miss the opportunity to have his kid try something new, and he got me involved right away. Little did we know about the conditions of the academy and its location, but we managed to look over that, and I fell in love with the academy and the sport immediately. I knew I found my passion the first time I trained at the academy on37th street.
SubCon: HAHAH! Yeah that building should have been condemned! Magno Gama took you under his wing and as a r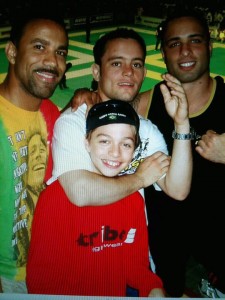 esult, your game is very similar to his. In addition to Magno, who are your main influences?
GG: Magno was the best teacher I could of asked for at the time and I would have gone nowhere without his guidance. He laid down the foundation of the game I play today, and I definitely see a lot of myself in him. Today, the main influences in my career are the Mendes brothers (Rafael and Guilherme) and Professor John Danaher. Although they both have different styles, I take so much from them and try to mimic what they do in training, and try to carry it over into competitions.
SubCon: How would you describe your style?
GG: Undefined. I honestly don't know how to describe my style. I tend to go through phases where I do different things and stick with that until I learn a new position. But I guess I could say that I'm well-versed as well, since there is never one positions I prefer fighting over another.
SubCon: What is the most important lesson Jiu Jitsu taught you over the past ten year?
GG: Throughout my entire career in Jiu-Jitsu, the biggest lesson I've ever learned was that it is really important to remain humble about everything. When you talk too much about "how great you are" that's when you get your butt kicked (and I've learned my lesson on a few occasions). There is always someone better out there to look up to, which is the beauty of Jiu-Jitsu. I'd just like to keep quiet, humble and hungry, until someday I get to the top. Talking won't make you great, hard work and determination will.
SubCon: Renzo's NYC school has a ton of champions pass through its doors every year, who was your favorite? Who did you learn from the most and what was that lesson?
GG: I have been very fortunate to have many amazing athletes and competitors walk through Renzo's doors
and give their perspective on things in the sport. My favorite though would have to be Roger Gracie. I have never trained with him 1-on-1 nor have I really gotten into a deep conversation with him. What I have always taken from him during his times he's in New York City is just the way he carries himself. He is the greatest Jiu-Jitsu competitor ever, but you wouldn't know it by looking at him. He never seems to take himself too seriously and always maintains a humble attitude. Many may carry their egos and reputations on their sleeve, but Roger is the perfect example of the perfect champion: quiet, calm, humble…and can kick just about anyone's ass.
SubCon: What has been your toughest challenge thus far?
GG: The toughest challenge I've faced in Jiu-Jitsu is the battles I have with myself… no one expects more from me than myself. I can tend to be very hard on myself for making mistakes either in training or in competitions. Some may think I'm completely nuts, but I can't help myself; I expect perfection every time I'm on the mats. Although I know complete perfection is nearly impossible, I still always shoot for it.
SubCon: What has been the proudest moment in your BJJ career?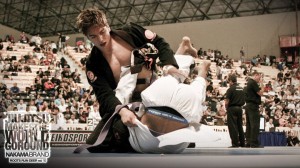 GG: My proudest moment came this past June at the Worlds out in California where I won the purple belt featherweight category, which was my third World title. The tournament was super tough! I was very happy I was able to get through and be the last man standing in an 82-man bracket. But what I was most proud of was just that all the hard training paid off in the end at the Worlds. Every day from January 1st to the day of the Worlds, all my training sessions were focused on that tournament. All the blood, sweat and tears were for that single gold medal, and to be able to actually see that dream through was absolutely amazing.
SubCon: What can your fans expect from you in the future?
GG: They can expect that I will continue to always remain focused on my ultimate objective: winning the Worlds in California! They can also expect to see me fight with the same passion and emotion as I have since I was 10-years-old, and continue to bring everything I've got into every single match I'm in.
SubCon: Any final thoughts?
GG: I'd like to thank my parents first-and-foremost, they have been my biggest supporters from day one, and have always been by my side no matter what; I would be nowhere without their support and love. I'd also like to thank my teammates for continually pushing me in training and helping me improve on a daily basis. Lastly I'd like to thank my sponsors- Athletic Body Care, Manto and Shoyoroll for their help and support and Submission Control for wanting to talk with me and let me share a little bit about myself. Thank you guys!
Champion versus Champion
Rafael Mendes vs Gianni Grippo…Check it out..
***
***
Last week's Young Gun: Sean Roberts