Today, we feature yet another member of the Alliance team. It seems that in addition to having a huge stable of world champion black belts, this mega-team's breadth reaches to all different belt levels.
In the below interview, we talk to purple belt world champion Francisco "Sinistro" Iturralde.
Sinistro hails from a place where BJJ is still in its infancy. While Ecuador is geographically close to Brazilian Jiu Jitsu's heartland, the popularity of our beloved sport is still nowhere near as popular as its South American brother.  In a place where high-level competitors and training partners are few and far between, this young prodigy was able to hone his skills under the guidance of his two brothers, Leo and Juan Miguel Iturralde.
Watch for this future champion in the brown belt division (recently promoted) in 2012.
Enjoy the interview. 
 *****
Submission Control: How did you start Jiu Jitsu?
Francisco Iturralde: I started Jiu Jitsu at seven years old, but I actually didn't like i
t, so I stopped training. When I was thirteen, my older brothers open an academy, so I picked it up again. I have been training ever since.
SubCon: What does your nick name Sinistro mean and what's the story behind it?
FI: Actually means kind like HARD, the translation is little difficult. My teacher Fernando Soluço gave me that nickname when I was a yellow belt at fourteen years old.
SubCon: Who are your main influences?
FI: Well in life I always look up to Jesus, but in jiu Jitsu, my main influences are my brother Leo and Juan Miguel, also Tarsis Humphreys, Marcelo Garcia, Terere and Cobrinha.
SubCon: How would you describe your style?

FI: I'm a free fighter, I always try to have fun, if not is just not good. I try to always get the submission as soon as possible. I'm guard player at heart, but I like to pass too.
SubCon: What has been your proudest moment in BJJ thus far?
FI: Every day I thank God for this beautiful sport and for all the passion that I put into it. So I think every little challenge that I can overcome on the mats, and the joy that one has with one's friends is worth any title.
SubCon: You won the 2011 world pros in gi and no-gi, what was it like being at Abu Dhabi and training along side with stars such as Rubens Charles, Rafa Mendes, and many more? What was the most important lesson you learned from the experience?
FI: Actually I gain a lot knowledge training with Tarsis, Bernar, Langhi, Malfa, Luana and Gabby at the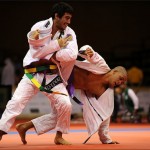 world pro. I also trained with some other colored belts like Pedro Torres, Chris Visentin and some other alliance aces. These guys have known me since I was very young and they also help me when I need to improve something.
SubCon: BJJ in Ecuador is still very new, was it difficult to find top level guys to help you train for international competitions such as the Mundials?
FI: It is still new but it is growing a lot and basically the best training is in my home  with my brothers and teachers, HAHAHA! Also there are a lot of guys that dream of becoming world champs, so I think there is enough high quality training in Ecuador. Also, I get to visit Alliance gyms around the world, so I always get high quality training.
SubCon: You recently moved to Miami Florida so that you can teach at Monsters Training Center. What influenced this decision?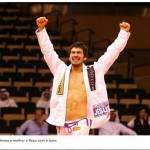 FI: I'm young, so I like to take adventures like this! I love Miami, I have family here, so I decide to come and live the dream. Train everyday and live from BJJ and I also want to go to college next year.
SubCon: What can we expect from you in the future?
FI: The only thing that you can expect is that I'm going to work hard. I believe that God is going to give me the strength to become a black belt world champ.
SubCon: Any final thoughts?
FI: I want to thank my sponsors SYR and Bull Terrier, they support me a lot. If you are in SoFlo (South Florida) stop by for some good training session at Monsters- Sinistro BJJ under Alliance! Like us on Facebook… Monsters Trainig Center. VIVA JIUJITSU! OSSS!
*****






*****
Sinistro's Facebook Page: http://www.facebook.com/pages/Francisco-SINISTRO-Iturralde/250543361641753

Monster Training Center: http://www.facebook.com/pages/Monsters-Training-Center/161233497264990

******
Last Week's Young Gun: Ronaldo Candido – 2011 Brown Belt Mundial Champ