This week, we feature one of my former training partners at Serra/RGA, Eric Sherman. Eric has beening training for about five years and has racked up multiple titles in organizations such as NAGA, Grapplers Quest and IBJJF. His highly competitive personality and his intense work ethic has taken him very far in this sport.
Watch for this "Young Gun" to make waves in 2012.
Submission Control: How did you start jiu Jitsu?
Eric Sherman: I started Jiu Jitsu right before my 16th birthday. I wrestled a year prior and was
beginning to watch the UFC. I distinctly remember watching UFC Unleashed. The fights featured Nick Diaz vs. Jeremy Jackson. Diaz finished the fight with an arm lock, and I thought that was the coolest thing I had ever seen. I researched Brazilian Jiu Jitsu onLong Island, and obvious choice was Serra BJJ. I took an intro class and have been training since.
SubCon: Who are your main influences?
ES: I have many influences in jiu jitsu. I'm very close with Matt Serra. Matt and Renzo are probably the two most charismatic guys in the sport, so it's always great to be around them. Nicky Serra, the Mad Monkey – he's awesome. He'll teach all day to ensure you know the move. Mike Piccolomini, a black belt under the Serra brothers, has been a huge role model. In the city, I train at the renowned Renzo Gracie Academy, with Igor, Gregor, and John Danaher are my head instructors. They made it an easy transition from Long Island to the city. I work with them a lot. All of these guys are both coaches and mentors.
SubCon: How would you describe your style?
ES: My style is continuously developing. I tend to keep a fast pace and try to stay active and attacking on top and bottom. I don't have a set strategy, though I do have preferred positions. I'm still most confident in my guard. My goal is to keep guys off balance and a step behind. If I can do that, the attack usually manifests itself. I train with the top guys from Renzo's, and it's humbling, man! I just try and pick their brains and everyday I'm learning something new. The goal is to be as well rounded as possible.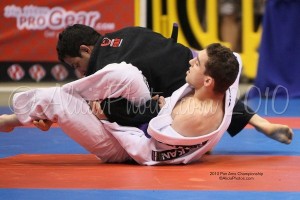 SubCon: What has been your proudest moment you BJJ career thus far?
ES: Receiving my brown belt from Matt and Nicky Serra is my proudest Jiu Jitsu achievement to date. I got it in my fourth year of training. Jiu jitsu is a lifestyle, and your belt reflects your dedication and growth in the sport. You have to rise to that rank and carry more responsibility on a daily basis. Your belt reflects more than just knowing a certain amount of techniques, you know? It's the best incentive to constantly train and improve.
SubCon: What can we expect from you in the future?
ES: I'm currently balancing school, internships, and training. It's demanding, but I'll continue training
and representing RGA/Serra in upcoming competitions. Gi season starts in a few months and I'll be competing. All of it will be geared towards peaking for the World Championships. The Abu Dhabi Pro qualifier is exciting too because Brown and Black belts compete together. It's a great indicator to see where you stand against the top guys in the world.