I'm ultra excited about this one! For today's Pioneers of the Sport, we feature one of the most notable names in BJJ during the late 90's early 2000's… Antonio "Nino" Schembri!
Nino is probably one of my favorite BJJ'ers during this time period; his relentless aggressive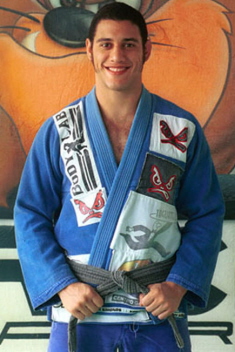 style shaped generations of super flexible competitors and champions alike. Additionally, one can argue that Nino is the true innovator of the gogoplata and the rubber guard (well, that's a discussion for another time).
With his BJJ linage and strong work ethic, Nino was destined for BJJ greatness.
At a time when Jiu Jitsu was reserved for the Brazilian upper-middle class, he was the son of a street merchant and was unable to train consistently. Schmebri started Jiu Jitsu at the age of five under famed Marcelo and Silvio Behring in Nova Ipanema. At thirteen, Nino started training seriously and received his blue belt at eighteen under Jorge Pereira. As a blue belt, Schmebri moved to Gracie Barra to study under Master Carlos Gracie Jr. and Renzo Gracie… Ok here is the amazing part. Two years after moving to Gracie Barra, Nino received his BLACK BELT from Carlinhos. TWO YEARS FROM BLUE TO BLACK!!!
In 2004, Nino Schembri began teaching Brazilian Jiu Jitsu at the Chute Boxe Acadmy in Curitiba Brazil. In his time at the Chute Boxe Academy he trained world renowned fighters like Wanderlei Silva, Mauricio "Shogun" Rua, and Maurillo "Ninja" Rua. Today he is looking to share his knowledge and life's work with the new generation of martial artists of all ages and backgrounds at his academy in Manhattan Beach, CA. http://www.ninoschembribjj.com
ALL HAIL THE KING!
Enjoy the matches!