"Build me a son, O Lord, who will be strong enough to know when he is weak, and brave enough to face himself when he is afraid, one who will be proud and unbending in honest defeat, and humble and gentle in victory." – General Douglas MacArthur


There is no other person in our beloved sport that exemplifies the above quote more than five time world champion Marcelo Garcia.
Today's "Before They Were Stars" segment features not Marcelinho's victories, but rather we are highlighting some of his defeats. We are celebrating these loses, because a BJJ master was shaped from these early ill-fated endeavors.
In the first clip, a brown belt Marcelo Garcia looses to Dustin Denes at the 2000 Brazilian Nationals. As you can see, Marcelo has changed his game drastically since then.
In the second match, we have a brown belt Marcelo facing off against a bigger and more senior Alexander "Cafe" Dantes. Keep your eye out for the beginnings of the x-guard!
In the third match, we have a newly minted BB Marcelo loosing a tight battle to Delson "Pé de Chumbo" Heleno. Watch again for the x-guard and this time the single leg X. This match with Pé de Chumbo took place prior to Garcia's dominance of the 2003 ADCC 66-76 kg division with wins over atheletes such as Renzo Gracie, Vitor "Shaolin" Ribeiro and Otto Olsen.
Enjoy the matches!
Also, for the ultimate Marcelo Garcia fan… Don't forget to enter our contest for your chance to win a signed gi from the five time world champion (click on flyer below)!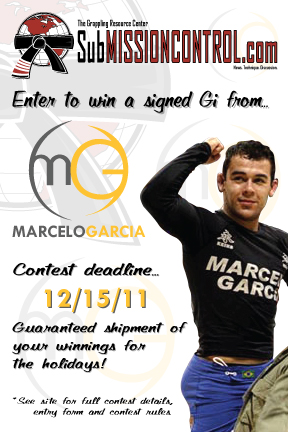 Last Weeks "Before They Were Stars": Nick Diaz