Interview with Mackenzie Dern
Mackenzie Dern, daughter of BJJ Champion/Veteran Wellington "Megaton" Dias transcends both our categories of "Young Guns" and "Female Champions".
At the young age of 18, she has won FIVE World titles, a Pan-Am title and clocked more mat time than most of the newly minted male black belts currently in the competition circuit. This up and coming female BJJ superstar is force to be reckoned with in the coming years.
Enjoy the interview, matches and technique from Mackenzie.
Submission Control: How did you start Jiu Jitsu?
Mackenzie Dern: I started jiu-jitsu because of my dad, Megaton Dias. He owned his own academy when I was little and always took me there during his classes, and his private lessons. I first started learning jiu-jitsu just by watching and listening. I saw them training and I would hear them talk about the positions. Then when I was 4, I started to learn the little things, like catch the back, mount, armbar, until I became old enough to compete.
SubCon: Did you encounter the same hurdles as Kyra?
MD: Of course, many hurdles that Kyra experienced still happen today and most of the girls competing have to pass through those difficulties. For example, sponsorships are still harder for girls. Prizes are not as good for women as they are for men. Also, many people think it is hard for a pretty girl to be a tough fighter and have good fights, so the girls do not get as much attention. However, girls like Leka Vieira, Leticia Ribeiro, Hannette Staack, and Kyra who are some of the female pioneers have given so much inspiration for girls to train and because they passed through many difficulties we are able to do jiu-jitsu a little easier now.
SubCon: Besides your father and stepmother, who are your main influences?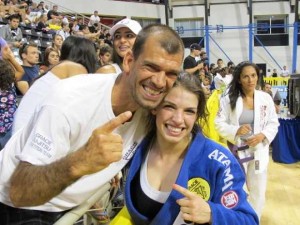 MD: Besides my father and stepmother, I have a few fighters that in one way or another influence me. My boyfriend, Augusto Tanquinho Mendes because he is so humble and I think this is an important aspect in being a competitor… Cobrinha has such nice jiu-jitsu to watch and is a charismatic person that I also think is important to be an idol for people…. Leticia Ribeiro, because of her dedication to train, and her dedication to the growth of jiu-jitsu for women… Lastly, Michelle Nicolini influenced my game a lot. I think Michelle attacks, so much, throughout her fights and it is a nice game to see.
SubCon: How would you describe your style?
MD: It is hard for me to describe my own jiu-jitsu style, but people close to me usually say that I am a versatile fighter, because I feel strong and comfortable playing on top, trying to pass the guard and I feel comfortable and safe when I play bottom. I usually analyze before my fights how will I fight best with my opponent and then I try to apply that in my fights; however during fights many things change. I train a lot all of the jiu-jitsu situations and with this I feel prepared for what could happen in the tournaments.

SubCon: Who are your favorite competitors?
MD: My favorite competitors are Megaton Dias, Marcelo Garcia, Andre Galvao, Rodolfo Vieira, Claudio Calasans, Roger Gracie and Hannette Staack. In my opinion they all have their own aspects and they are all great competitors that show nice jiu-jitsu.
SubCon: What has been your proudest moment in Jiu Jitsu thus far?
MD: My proudest moment until now was winning the World Championships this year at purple belt. It was not only my proudest moment because of the title but, it showed that my hard training this year as a purple belt helped me achieve all my titles in 2011 and it showed that all the hard work is paying off. After winning, it also gave me more dedication to want to continue training hard for the good results!
SubCon: What do you think is the major hurdle for women when starting BJJ? Additionally, how can they overcome these obstacles?
MD: In my opinion, the major hurdle for women starting BJJ is having to train with men. It is hard for those first couple of girls in the academy who still have to train with guys until more girls come. My advice, would be to keep training even though it is just with guys, because with those first couple of girls they will give comfort for more girls to come and train. Eventually you will be able to have a variety of girls to train and maybe even a girls class.
SubCon: What are your suggestions to help academies grow there women's program?
MD: Some suggestions for academies to grow there women's program are to try and offer women's classes. If you can, try and get a girl to teach the girl classes. Girls like to see that a women is successful in the sport and it is easier for girls to relate to their instructor. Also, it is good to promote female jiu-jitsu. The more you talk about good female competitors, the more inspiration it gives for your female students.
SubCon: What can your fans expect from you in the future?
MD: My fans can expect to see me competing a lot in the future! My next tournaments will be the World's No-Gi and then the Abu Dhabi World Pro Trials in San Antonio. Also, my fans can expect to see me train as hard as I can so I can compete prepared and do my best in the tournaments.
SubCon: For all the BJJ father's out there, how did Megaton treat/react to your first b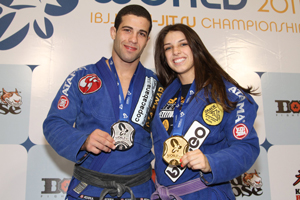 oyfriend?
MD: HAHAHA! He reacted how most fathers would, except instead of showing a weapon to scare the boyfriend he wanted them to come to the academy for a little "training". He wanted to see if the guy was tough or not and wanted to submit him as many times as possible! Still today, even with my boyfriend, Augusto Tanquinho who is a black belt too, he does the same thing! I'll always be his little girl!
SubCon: Any final thoughts/current projects?
MD: I just want to thank SubmissionControl for the questions! Also, thanks to my family and my team! Thanks to the fans for the support! And thanks to my sponsor Atama Kimonos!
2011 Mundials – IBJJF
2011 Mundial Finals – IBJJF
MUNDIAL DE JIU-JITSU ESPORTIVO 2010 – CBJJE
Mackenzie Dern x Nayara Pleza
Mackenzie Dern x Bruna Paiffer
Dern x Barbosa
Sweep/takedown