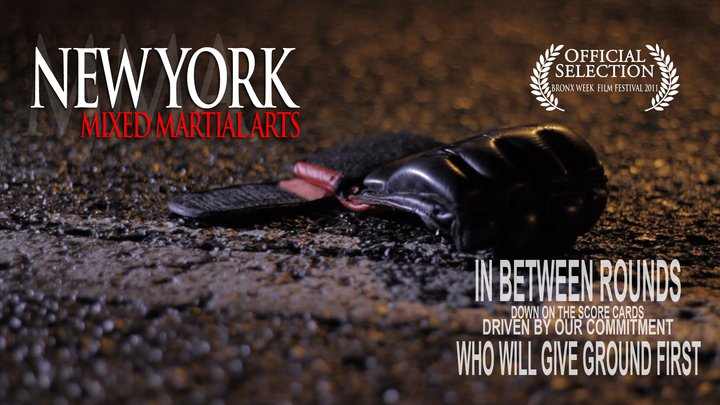 FROM: Stephen Koepfer
April 22, 2011
I am very pleased to announce that the film I have been working on with Kahleem Poole – Tejada for nearly a year now, New York Mixed Martial Arts, has been accepted as an Official Selection in the First Annual Bronx Week Film Festival!
This is a momentous occasion for MMA in New York as we have struggled to reach the mainstream media with our message that MMA needs to be legalized and regulated in our state. This festival offers an excellent opportunity to reach average New Yorkers, the New York political elite, and promote mixed martial arts in a fair and balanced light.
The film is scheduled to premier on May 16th (subject to change).
To follow all the latest news regarding this groundbreaking film and view the trailer, please vsist the film's web page here:
http://nymmanow.blogspot.com/p/new-york-mma-film.html
You can also join the film's Facebook fan page here:
http://www.facebook.com/pages/New-York-MMA-Feature-Film/156161911115347
If you support legalized and regulated MMA in New York and have your own YouTube channel, please make our trailer your featured video:

If you have any questions about this film, please do not hesitate to contact me!
Here is the film's synopsis:
New York Mixed Martial Arts
(Kahl One Film Productions & The Coalition to Legalize MMA in NY, 2011)
New York MMA is an enthralling documentary that provides a back seat view of the grass roots struggle to legalize and regulate the professional sport of mixed martial arts (MMA) in New York State. New York is one of a handful of states in which MMA is still outlawed; sacrificing jobs and millions of dollars in revenue to neighboring states and countries since 1997. In his first feature length film, Bronx native, martial artist and filmmaker Kahleem Poole – Tejada presents an intimate account of the struggle to legalize MMA through the lens of one amateur fighter's (Bradley Desir) quest to turn professional under the guidance of his coach (Stephen Koepfer). Viewers are offered a rare glimpse behind the curtain of the political, sometimes frightening, and always exciting world of mixed martial arts.
PRODUCER:
Stephen Koepfer
DIRECTOR, DIRECTOR OF PHOTOGRAPHY, AND EDITOR:
Kahleem Poole-Tejada
ASSISTANT DIRECTOR:
Levan Reginald Hines
CAMERA:
Robert Billings
STARRING:
Bradley Desir
Stephen Koepfer
SPECIAL APPEARANCES BY:
Josh Barnett
Gesias Calvacante
Fedor Emilianenko
Justin Klein
Tara LaRosa
New York Assemblyman Dean Murray
Nestor Marte
New York City Councilman Joel Rivera
Bas Rutten
Oleg Savitsky
Frank Shamrock
Mike Straka
Dana White
And more…
RUNNING TIME:
60 minutes